Martial Arts background of Josh Johnson (Hanshi)
Chief Instructor, International Budo Association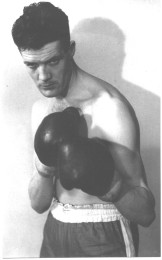 Josh Johnson was taught to fight at an early age (8 years old) by his father, a serving Policeman, Eddie Johnson who had served in Palestine and El Alamain as a Paratrooper in the 2nd Battalion Parachute Regiment during the 2nd world war before joining the Police force in 1948. During his time in the army, and whilst serving as a police officer, he had boxed for both organizations and represented them in numerous contests as a middleweight: Won 18, Lost 2, Drawn 0. Assisting him was his friend and professional boxer Johnnie Mcgowan, light heavyweight: won 21, lost 11, drawn 1, K.O.s 13. Both men would regularly take the young Josh into the back yard and teach him the intricacies of the noble art, at times getting over enthusiastic and knocking him from pillar to post. He spent every day after school happily punching away at his Freddie Mills Punch ball, whilst his friends were out playing football.
During his school years he played Rugby League for his school, St Austins R.C. and Thomas a Beckets R.C. High School. Leaving school he played for Eastmoor under 19s, enjoying the full contact aspect of the sport. He carried on with his Boxing and Weight training at the White Rose Boxing Club on Thornes Wharfe, Wakefield.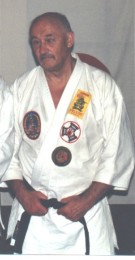 At the age of 16 (1964) he joined the Prison Officers Judo club in Wakefield and trained with them for two years before joining a Karate club called The Hi-Ryu-Kan (1966) which had just opened in the City. The Dojo belonged to the U.K.K.F of Sensei Tatsuo Suzuki and his northern representative, at that time Phil Milner. The Spartan training regime and discipline was just what Josh required to stop his spiraling descent into the numerous street fights he was getting involved in.
During the following years he studied Wado-Ryu, under the various Japanese and U.K. Instructors: Goju Ryu Karate with Mike Lambert and Dennis Martin, Okinawan Kobujutsu with John Sullivan and Julian Mead, and Survival & CQB with Eddie McGee and Dennis Martin. He ran Several Dojo during these years, Eastmoor High School, Wakefield Y.M.C.A., St Georges Hall, Menwith Hill U.S.A.F. Base, Harrogate Hospital and Wakefield Sports Centre; organizing and attending courses with Denis St John Thomson of South Africa (Goju-Ryu), Mr Kitamura (Shukokai), Sensei Kase (Shotokan) and many others.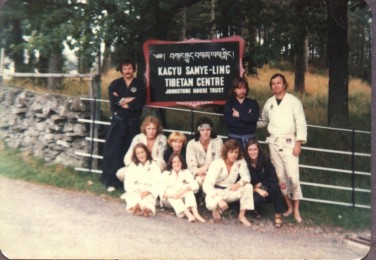 Visiting the Samye-Ling Buddhist Monastery in 1974 for a week of meditation and training he was awarded the name for his own Karate school by the resident Monks, "Yid-Ga-Ling – roughly translated from the Tibetan means "Mind-Harmony-Place". This was adopted for the school name; not as a style or method, but as a place where one would strive for perfection of technique and harmony of the mind.
He was posted to Egypt in 1979 by the company he worked for, installing Pipework through the desert. Living in Alexandria he was encouraged by his Sensei, Phil Milner, to open Dojo and teach the I.B.A. methods and popularize the association in the Middle East. Opening Dojo in both Alexandria and Cairo he successfully taught numerous students through to Black Belt before returning to the U.K. in 1985. He opened his full time Dojo in Wakefield in May of '85 with a Jiu-Jitsu course run by O-Sensei Phil Milner. The Queen Street Hall Dojo and Gym ran for 15 years before it relocated to the present Dojo location: The Wakefield Karate & Martial Arts College in Thompson's Yard, Wakefield.
During the Queen Street Hall period, the visiting Instructors were, O-Sensei Milner, Mike Lambert Sensei, (Goju Ryu), Julian Mead Sensei (Yiu-Shin-Kai Kobujutsu), Sensei Shiomitsu and Sensei Sugasawa of the Wado Academy, Motokatsu Inoue (kobu-Jutsu). At the Thompsons Yard Dojo (W.K.C.) courses were taught from Phil Milner Sensei (Jiu -Jitsu), Mr Sakagami Sensei (Wado Ryu), Dave Allen Sensei (Jiu-Jitsu).
The early years of the Dojo ('66 to '76) was spent on entering traditional Karate tournaments, but with the advent of full contact tournaments ('77 to '85), emphasis changed to the full contact scene, with notable success from W.K.C. fighters. On his return from Egypt and the opening of a full time Dojo, Josh put all his efforts into teaching the Traditional syllabus of the Japanese and Okinawan systems he had been taught.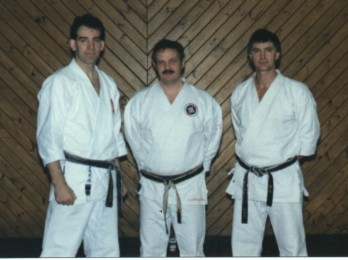 1986 saw the formation of "The Anglo Traditional Karate Association", the founding members being Josh Johnson, (Wado-Ryu), Julian Mead (Yui-Shin-Kai) and Mike Lambert (Goju-Ryu). The A.T.K.A. was immediately taken into the M.A.C. and membership grew from Traditionalists all over the U.K. Although running his own association, he had remained loyal to his first Sensei, Milner San, assisting him on demonstrations and courses and administration of licenses and technical details. Their friendship continued until Phil's untimely death in 2000, being one of the pall bearers at Sensei's funeral together with Arnie Bestwick, Ken Whitham and Dave Slaney of the I.B.A.
With the passing away of Phil Sensei, a meeting was convened in Worksop and all the members of the I.B.A. voted that Josh should continue as President and licensing officer and the post of Chief Instructor be held by Arnie Bestwick Sensei. Sadly Arnie passed away after a long illness in 2008, Pall bearers once again Josh, Dave, Ken and Arnie's nephew; carrying another of the I.B.A. Legends to his rest. Josh was then elected as Chief Instructor of the I.B.A. at O-Sensei Bestwick's memorial course on 5th October 2008.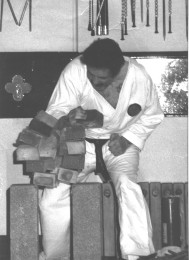 Over the years Josh was renowned for his breaking techniques (Tamashiwara) and body hardening (Shintai Katai). To demonstrate the power that a Karate blow could generate, he had it included in the school syllabus and regularly gave demonstrations at courses and tournaments. His forte was breaking house bricks, smashing blazing tiles and head butting stacks of roof tiles, his total being 18 – just 6 short of his mentor Phil Milner O-Sensei. The record for most house bricks broken was attempted on 4 various occasions with success being finally achieved in 1986 with the setting of a new World record of 5 house bricks broken with a single blow.
Today Josh is the Chief Instructor & Examiner of the "Anglo Traditional Karate Association" (ATKA) and the President and Chief Instructor of the "International Budo Association" (IBA).
A selection of photographs from Josh Senseis personal archives can be viewed below
Information, dates and facts taken from the W.K.C. Archives
Chronological photo archives

Eddie Johnson (1948)

Johnny McGowan (1950)

O-Sensei Phil Milner
1933 – 2000

Josh Johnson (1967)

Josh – 6th Kyu (1968)

Josh – Tamashiwara:
10 roof tiles (1969)

Josh – Tamashiwara:
18 roof tiles (1973)

Samye-Ling Monastery (1974)

Keith Penn & Josh with South African Goju Team: Dennis St John Thomson (4th from left) Dennis Martin (centre back) – circa 1977

Samye-Ling Monastery (1978)

Josh – shuto (1978)

O-Sensei & Josh sparring: Phil's deadly ushirogeri in action – circa 1978

Josh – Maegeri
(1978)

Chris Johnson – Josh – Keith Penn (1980)

Josh – Tobi Ushirogeri (1981)

Josh (1982) Tamashiwara: sokuto 2" wood – watched by Keith Penn & Phil Milner

Josh (1982) Tamashiwara: seiaken 2" wood – watched by Keith Penn & Phil Milner

Josh demonstrating pile drive (sakatsuchi) – 1983

Survival course at Malham Cove with Eddie McGee (Dennis Martin in background)

Ray (Johannesburg) & Jack Etheridge (Chicago) – two of Josh's early students

Petar Mijic – Josh – Meiji Suzuki – Ray Evans

Mugendo:
Petar Mijic & Meiji Suzuki

Queen Street Hall Dojo (1985)

Queen Street Gym: Sammy Nelson (Mr Great Britain) with Josh

Julian Mead – Josh – Mike Lambert (1986)

O-Sensei Motokatsu Inoue & Josh at a Kobujutsu course, London (Julian Mead's Dojo)

Mike Lambert teaching on Goju Ryu course, at Josh's Wakefield Dojo

Mike Lambert – Goju Ryu, Queen Street Dojo, Wakefield

Mr Sakagami & Christine Moody, Queen Street Dojo

Josh (1988) Tamashiwara: shuto 4 house bricks

Mr Sugasawa & Josh at Queen Street Dojo (1988)

Josh – Tamashiwara: 5 house bricks world record attempt, Queen St. Dojo

Josh – Tamashiwara: 5 house brick break

Josh – Tamashiwara: 5 house brick break

Josh – Tamashiwara: Head butt – 12 roof tiles

O-Sensei Milner with Christine Moody, Josh & Eric Lewis, Thompsons Yard Dojo (1999)

Al Friedle – Tamashiwara: Tetsui 12 roof tiles as part of Dan grading

Josh – bag work at Thompsons Yard Dojo

Josh – bag work at Thompsons Yard Dojo

Josh teaching Pinan Godan, Thompsons Yard Dojo

Dave Allen – Josh – Arnie Bestwick at a Masters' Course in Huddersfield

Arnie Bestwick 10th Dan IBA awarding Josh 40 years service Certificate

Kobujutsu Class 2007:
Steve Goldthorpe – Al Friedle – Eddie Lane – Andy Briggs – Josh – Graham Herbert – Ian Windle – Bob Surgey – (seated) Christine Moody – Aaron Chalcraft

Josh Teaching Iaido (2007)

Josh's entry in "People of Yorkshire" (Who's who) 2008
What was I thinking of?
| | | | | |
| --- | --- | --- | --- | --- |
| Karate demonstration 1970's: flying sokuto through a car windscreen – showered the audience in glass shards! | Learning from our mistakes – Kakatogeri through a car windscreen – only covered fellow karateka in glass! | Tried and tested – shuto through blazing roof tiles – much safer (at least for the audience!) | What were we thinking? 2 little lost Ninja at the Samye-Ling Monastery: Keith Penn & Josh Johnson | Has anybody seen the fire extinguisher? |
| Still haven't learnt! | If you can't beat them, shoot them! Josh (far right) at pistol range | Or at least use a weapon – Josh with Mike Lambert – kobujutsu training | Wakefield Sports Centre publicity stunt: Only 3 house bricks – no problem… "Maintain Zanshin", "Maintain Zanshin" | Only Two Break!! Must have been something distracting me…. |