September 1969 Ninja Course – BBC Children Program Record Breakers – Galas Are Windows of Opportunity – Japanese Week off to Record Breaking Start – Guinness book of records, Human achievement – Other Photographic Memories
If you're a nostalgia buff, then you'll enjoy a short trip in to the past with this photograph and the following story of (Professor Sensei Phil Milner Hanshi 10th Dan and others). Professor Milner was a dedicated and enthusiastic person who shared his skills with thousands of martial arts enthusiasts around the world. He was the Secretary of the ORIENTAL ARTS SOCIETY who later becomes the Head of the INTERNATIONAL BUDO ASSOCIATION. He formed a working committee and my place was the Public Relations Officer assisted by my wife Joan. With his committee their number one aim was to develop a people's first culture that values the contribution of teams and individual efforts in martial arts education and development. In doing so he helped build a large successful organisation as you see today and on his early bereavement left a Jewel in the Crown for others to follow.
This old photograph and story is little visual time capsules of times from the sixties and hopefully my story of Phil will be viewed by many millions of karate enthusiasts around the world as a nostalgic reminder of an era so far away yet so close in many of our memories.
One of many training events that Phil organised took place in 1969 at Cutthorpe Derbyshire, when I attended a two-day outdoor training event covering the training and understanding of Ninjas, Warlords, Samurai and weapons training. Two hundred and forty-three karate enthusiasts and exponents were drawn from all parts of Britain. Instructors were Sensei's Phil Miner, Walter Seaton, Colin Edward's, Tony Martin, Dick Sadler and David Allen.
The course was held in the woodland and fields adjoining the Peacock Inn at Cutthorpe, Chesterfield. During Saturday the first activity was an eight mile barefoot cross – country run for all students followed by four hours of non-stop training that included the practicing of different techniques and strenuous exercises. After this a short break for refreshments met with the approval of all taking part as they left the training area in their sweat soaked karate suits. During this recess the tactic for the main event of the weekend was discussed. This was to be a simulated Japanese battle, which was to take place during Saturday night and Sunday morning. Stealth and covert arrangements were discussed before the night-time event took place that finished 4 am Sunday morning.
Nevertheless the following morning the students were up early and eager to participate in the training session that began at 7am. The strict schedule had to be adhered to. The day continued with another barefoot cross-country run over paths and through woods and the remaining seven hours was taken up with further karate training and exercises. The two-day course bowed off at 4 pm with all of the students completely exhausted. The national press and TV publish this event the following week. One of the journalists stayed with the course and reported the following events.
Press Report.
A Japanese Battle Fought & Won in Britain.
The kill, said the man in the navy knitted skull cap had to be silent and fast. A slit throat he suggested from his seat in the ditch.
In the hedgerow on the fringes of Chesterfields Linacre woods the blurred black shapes hissed approval and moved in on the victim a chap with whom we shared a table an hour before at the hostelry down the lane. Amicable fellow not that anyone doubted it. His execution was a job which had to be done. From my vantage point, prone on the stubblefield, I dare not utter a word. A stalk was thrust into my left nostril and inside one ear a moth had settled. A cough was stifled and somebody's stomach rumbled.
For the Japanese assassins with Newcastle accents their night of killing was about to begin. Those photographers and mechanics and articled clerks of the local pub were now kamikaze Ninjas, dedicated to doing in the War Lord, sat two fields away in an orange tent.
It was Saturday night in the picturesque country around Cutthorpe and the first ever Japanese battle was to be enacted in Britain. An animated chess game with its 200 black and white clad pieces that moved across chequered fields for four hours until the defenders won.
The battle which required 16 black and brown belts to take on scores of novice green and white belts in an attempt to reach their overload and kill him was an exact reproduction of the sort of fights waged by the ancient Samurai and Ninjas.
Authentic
Its authenticity ensured by over three month's research was complete right down to the weapons carried by the opposing gangs. In defending their War Lord Edgar Auckland a 20 year old joiner from Cudworth Barnsley, the Samurai employed some booby traps as nets and trip wires to harness the enemy, while us Ninjas carried ancient strangling devices known as Nun-Chaku and quarter staffs, referred to as bows.
The Ninjas bolstered with the knowledge the poor old Samurai were frightened to death of them anyway also employed their own methods of psychological warfare, which in a dark wood at night were particularly effective. They stayed silent for minutes and then jingled tiny bells in the darkness, laughed and shrieked all calculated to unnerve those unfortunate lily white belts. Reassuringly there were no casualties if you don't count the boy who sprained his ankle before it all started and nobody really died. You just had to pretend and be on your honour not to get up and fight again once nabbed. The mortuary was a clutch of tents at the main camp and death for some was a heaven sent chance to get an early kip.
Karate enthusiasts and exponents were drawn from all parts of Britain for the battle including Newcastle, Middlesbrough, Loughborough, Halifax, Scunthorpe, Wakefield, Barnsley and the Sheffield area. The two-day event, the karate worlds training weekend and known as a Martial Arts course, was devised and organised by 35 year old Dinnington karate instructor Phil Milner, a black belt holder. With some of the 1800 members of the Yorkshire and Midlands Oriental Arts Society, he carried out the necessary research for the battle and the organising of the training programme.
"I thought karate followers in the North deserved something like this because until now all the activity has been down in London. That is no good to us and so I started to do something about it. This is the result", he explained.
Mr. Milner married with three children is now more certain than ever that the event will become a standard fixture on the country's karate calendar. "I'm more than pleased with the response there has been to this combined event. I'm certain it will now become an annual event and I hope it will be staged at Cutthorpe every year".
He predicted it being bigger and even better attended next year." I'm very happy about the way the battle went off and its success. I'm sure we will draw more people next year".
His second in command for the weekend and in the Ninja raiding parties was Walter Seaton 33 year old former British Team champion and captain when they won the bronze medal in the 1966 Paris European Games.
Walter who comes from Newcastle and hold a black belt headed our kamikaze party when we headed for the woods on that never to be forgotten moonless Saturday night. As we trudged and stumbled blindly through bogs, bushes and brooks, Phil took his Ninjas on another route and War Lord Edgar Auckland deployed his men around the orange tent, the camp, up trees and into fields.
I went along as a non-combatant not unfortunately wearing white, but garbed in black with blackened face and hands to be subject to four hours of crawling and running across fields, through, over and around hedgerows, ending in a grand finale at the finishing time 4 am Sunday.
In the end it was all a bit of an anti-climax. We lost but we weren't sure if it really had finished. Some people wandered back to their tents and one Ninja went back to catch the goat which in all the activity had reared up slipped its chain and ran off.
While at the victorious War Lords tent, Edgar announced he was dead chuffed with his win as Ninjas argued Samurai had achieved re-birth after being killed off.
Although the highlight of the weekend, the battle was not the only feature of the two-day event. Karate students had to telescope nine-months training into the weekend to be upgraded a colour on their belts.
During the two days they had just two hours sleep, yet underwent an eight-mile run, three hours of tortuous exercises and several sessions of free fighting. Wave after wave of them were made to march, taut faced, down a 300 yard meadow where two donkeys grazed on apprehensively practicing fighting stances, then onto their haunches and finally carrying each other across the greensward. They really have had to put in some work because they are going to be considerably upgraded. They are not going to get it for doing nothing explained Phil Milner.
Nobody was allowed to stop because of pain or fatigue. Unconsciousness was the only criterion for dropping out-and we can soon revive those. Those 150 followers indulged in what can only be masochism in its purest form. They rolled in agony and their faces were torn in anguish… but they carried on. Those that did not keep up an adequate pace were flogged with a belt by Walter Seaton. "I believe in being ultra strict in training. That is how karate is supposed to be followed," he said. And almost everybody in Cutthorpe over the weekend agreed with him. The event like the sport attracted all types.
Photograph taken by Sensei Walter Seaton, illustrates some of the karate enthusiasts who attended the 2-day outdoor Ninja training course held at Cutthorpe. Phil Milner at the back, John Unwin, Mick Lunn, Tony Martin, Dick Sadler and David Allen I think?
Front row left Albert Hilton, centre front row in black Edgar Auckland to my right Harold Thawley to my second left Bob Lord. I am unable to put the names to others students.
Yours sincerely
Sensei Edgar Auckland Hon Hanshi. MBEng. MICM.
__________________________
BBC Children Program Record Breakers
Professor Milner with five other members of the International Budo Association was invited to the BBC studios in London in the early seventies to take part in new children's programme 'The Record Breakers.' Roy Castle hosted the programme and the Authors of the Guinness Book of Records Norris and Ross McWhirter Brothers were verifiers.
The programme featured the Royal Navy team and IBA team smashing a piano into fragments using hammers in competition and of cause with bare hands and feet. The world record at that time stood at two minutes 26 second to smash a piano and place the broken pieces through a nine-inch diameter hole. On this occasion we didn't break the world record, on the other hand we did thrash the Royal Navy team.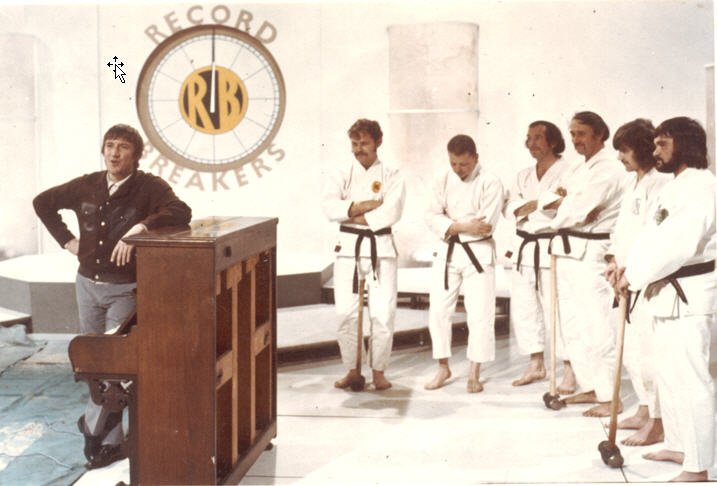 Photograph illustrates Roy Castle leaning on a piano before the team smashed it into pieces. On his left Edgar Auckland from Cudworth, followed by Charles McDonald from Hull, Graham Morley Doncaster, Professor Milner and Trevor Lynn from Dinnington and Richard Bird of Scunthorpe. Mr Alan Russell produced the program and Mr Norris Mcwhirter the joint author of the Guinness Book of Records supervised the event.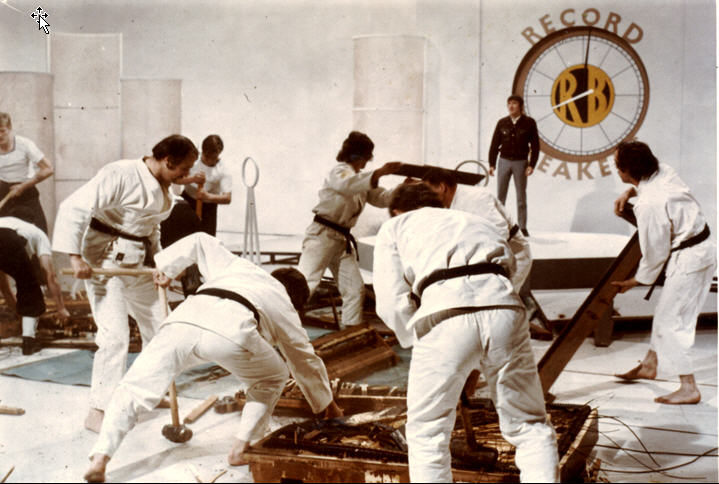 Looked on by Roy Castle from the centre stage.
Sensei Edgar Auckland (Hanshi).
MBEng. MICM.
_________________________
Galas Are Windows of Opportunity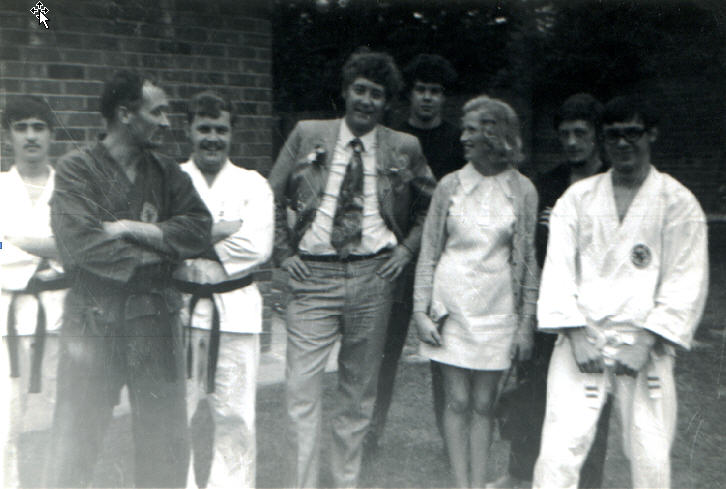 The above photograph illustrates from the left: Gerald Cook, Professor Phil Milner 10th Dan, Edgar Auckland, Austin Mitchell of Yorkshire ITV Calendar, Marjory Milner and 3 karate students.
A great deal of time is spent in preparation before a martial arts display. There are around six principles to remember. You must be fit and have a feeling and purpose to do well. You must perform with spirit and with variations in the timing of movement, sometime fast and sometimes slow. Demonstrations must be performed with proper rhythm of breathing when to inhale and to exhale and proper balance must be maintained in all performances. These moves are the art of performing at your best.
The photograph was taken before Austin Mitchell opened the 20th Annual Gala at Dronfield Saturday 18th July 1970 where over 4000 spectators were entertained by many events including a karate presentation by the International Budo Association.
The karate demonstration was schedule for 5pm that day and involved Basic Techniques, Nerve Pressures, Bojitsu (Stick-Fighting), Defence against a knife attack, Kata, Tamasha Wari (Wood & Tile Breaking), also self-defence.
Following the Dronfield display and with one hour to spare, we quickly travelled to Oakes Park Norton. Where we met Richard Whiteley Yorkshire Televisions Calendar whom was supporting the British Cross Society Centenary Gala (1870-1970), where we were scheduled to demonstrate karate and judo at 7pm. The ITV film crew filmed both galas and a great deal of money was raised'.
Sensei Edgar Auckland (Hanshi)
MBEng. MICM.
________
Japanese Week off to Record Breaking Start
The above newspaper cutting illustrates Professor Phil Milner 10th Dan Karate, with two of his students breaking breezeblocks with a 7lb hammer on his stomach. Looking on is Miss Susuko Sakamoto from the Japanese Embassy with Mr David Trotman the School Headmaster. Photograph was taken by the Chronicle, Monday, May 15th 1972 and the event was shown on National T.V.
The newspaper went on to report. Karate Black Belt Phil Milner, of Dinnington got Willowgarth High School's Japanese Week off to a flying start on Monday by breaking 50 breezeblocks on his stomach in 40 seconds to set up a New World record.
Speeches followed. Mrs Mavis Colman, head of further education at Willowgarth, said a lot of people had asked her: "Why a Japanese week?"
She said she felt that having a week devoted to the customs and arts of a country they did not hear much about would be very interesting.
Miss Susuko Sakamoto of the Japanese Embassy gave a talk about her country, including such topis as school religion, language (which has nearly 2,000 characters) and the traditional dress, the kimono, which is worn only at parties, funerals, weddings, on holiday, or for special occasions.
Mr. David Trotman (Headmaster), in thanking Miss Sakamoto, said that Japanese children queued to get into school. Perhaps that was why the country had made so much progress in education in the past few years.
Grimethorpe Colliery Band gave a concert, which included an excerpt from "The Mikado".
On Tuesday, David Botomley (16), the Barnsley boy chosen as Representative Scout at last year's Scout Jamboree in Tokyo, gave a talk on his vision to the country and on Wednesday Mrs. Joan Swinton gave a demonstration of Ikebana-the Japanese art of flower arranging.
Yesterday (Thursday), Phil Milner and a team of Black Belts gave a demonstration of Japanese sports, including karate, judo and ju-jitsu.
Sensei Edgar Auckland (Hanshi).
MBEng. MICM.
_____________
Guinness Book of Records, Human Achievements


I recently came across the original 1973 edition of the Guinness Book of Records and became aware of the heading (HUMAN ACHIEVEMENTS) illustrating the record made by the late Professor Phil Milner 10th Dan and the karate team from the International Budo Association in 1972.
The Word Record event was sponsored by Yorkshire Calendar T.V. programme and went out on National T.V. programmes throughout the world, when fifteen International Budo karate enthusiasts from around country demolished a 6 room early Victorian house at Idle, Bradford, Yorkshire by head, foot and empty hand in 6 hours on 4th June 1972.
Edgar Auckland Professor 8th Dan Karate-Do Hanshi.
MBEng. MICM.
Sensei Edgar Auckland (Hanshi).
MBEng. MICM.
_____________
Photograph in 1975 at the Dorothy Hyman Sports Stadium Cudworth.
From the left Cudworths Karate Internationals Gerald Cook Second Dan, Edgar Auckland Third Dan and Tony Manterfield Second Dan.
Sensei Edgar Auckland (Hanshi) MBEng. MICM.
The above photograph illustrates Tony Manterfield left Gerald Cook right & Edgar Auckland centre. Photograph was taken at the new Dorothy Sports Stadium in the early seventies.
Sensei Edgar Auckland (Hanshi).
MBEng. MICM.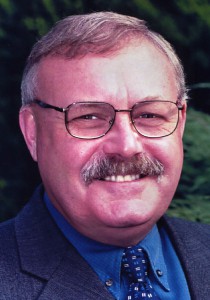 ______________________