This website is dedicated to a legend in the Martial Arts: Grandmaster Phil Milner, 10th Dan.
Having served half a century practicing and teaching in the Martial Arts, Dai-Shihan Milner was awarded his 10th Dan in Jiu-Jitsu in 1999 for his skill and contribution to the world of Budo, for his countless achievements in the Martial Arts, his World Records and his tireless fund raising for Charity. He will be remembered in the history of karate as a dedicated practitioner of the Arts, and as a friend and teacher to thousands of karateka in the United Kingdom and throughout the World, who owe their skill and knowledge to the patient, (and sometimes harsh!), teaching methods of this man.
As quoted in 'Martial Arts Illustrated' magazine, 1994: "One man's mentor, another man's nightmare!"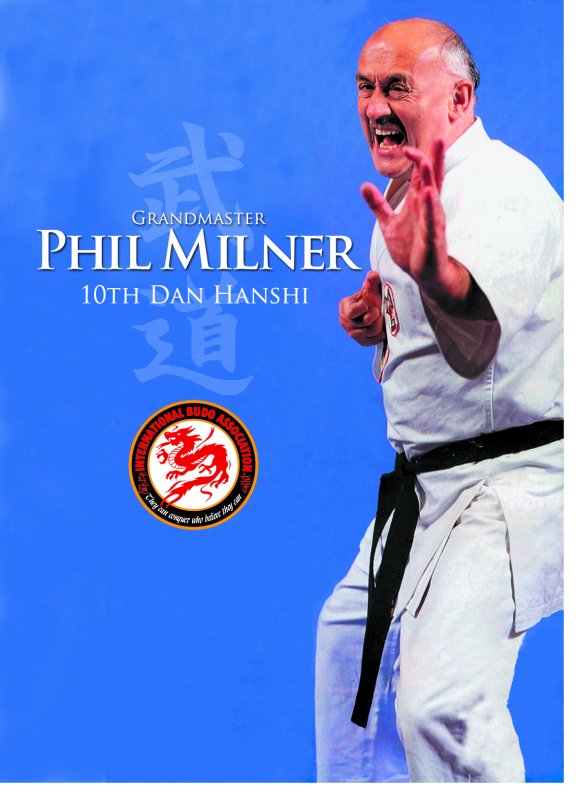 Phil Milner: the man, the legend; started his Martial Arts training in the 1950's when he took up Judo during his National Service in the Army. He was posted to Korea where he was introduced to both Jiu-Jitsu and Tang-Soo-Do.
Upon his return to the UK, he established his first Dojo at The Falcon Public House in Dinnington, Near Sheffield, South Yorkshire. From here, he taught Judo and continues his training in Jiu-Jitsu with the early pioneers of the Martial Arts in England.
There were very few Japanese instructors in the UK during the 1950's; most were brought over initially at the invitation of Vernon Bell Sensei but only a few Dojo were in existence teaching karate.
The beginning of the 1960's saw the arrival of various Japanese instructors from the universities of Japan: Senseis Enoeda and Kanazawa teaching Shotokan, and Sensei Suzuki teaching Wado Ryu. Phil invited many of these instructors to his Dojo and eventually commenced his own training in Karate. Phil opted for the Wado Ryu style as his base.
His training methods generated a lot of followers and he soon established clubs throughout Yorkshire and the Midlands. His own Dojo relocated to The Lordens Hotel in Dinnington and became renowned for its Spartan training regime.
1969 saw the formation of the Midlands and Yorkshire Oriental Arts Society – the forerunner of the IBA. Present at this inaugural meeting were Phil Milner, Dave Allen, Walter Seaton and Colin Edwards. The founding clubs (15) consisted of:
Dinnington: Lordens Hotel
Nottingham: 48 Carrington Street
Huddersfield: St Matthews School
Sheffield: Queens Head, West Bar
Doncaster: Liberal Club
Wakefield: St Mary's School Rooms
Gainsborough: Castle Hill School
Chesterfield: Edwin Swales School
Newcastle: St Paul's School
Grimethorpe: Willowgarth High School
Hartlepool: Sacred Heart School
Newcastle: Wharrier Street School
Castleford: Albion Street WMC
Scunthorpe: Civil Defence Headquarters
Stockton-on-Tees: North End Sports Club
By 1971, the affiliations had risen to 30 Dojo and consisted of:
Dinnington: Lordens Hotel
Newcastle: Wharrier Street School
Nottingham: The Club
Stockton-on-Tees: Stockton Sports Centre
Hull: Barham Road School
Hull: Boothferry Road School
Hull: St Pauls Street Church
Barnsley: Willowgarth High School
Sheffield: YMCA
Barnsley: Snydale Road Secondary School
Halifax: Wainright Hall
Accrington: Tegatani-Ninja-Su-Ryu
Dewsbury: Textile Hall
Wakefield: St Mary's School Rooms
Skegness: Ship Hotel
Scunthorpe: Priory Lane Junior School
Sheffield: Queens Hotel
Hull: Hull University Karate Club
Hull: Eastfield Road School
Hull: Sir Leo Schultz School
Sheffield: Abbey Dale School
Sheffield: King Edward School
Middlesbrough: Co-op Rooms
Chesterfield: Edwin Swales School
Sheffield: Batchelors Factory
Doncaster: Presbyterian Church Hall
Sheffield: De-La-Salle School
Huddersfield: St Matthews School
Castleford: Albion Street WMC
Gainsborough: Castle Hill School
By 1972, Phil's reputation was expanding throughout the UK and Europe and it was decided to form an International body in order to accommodate the various Instructors, Styles and Dojo which were wishing to join Phil's Unique training methods.
There were various brief affiliations during this time with "Tegatani" (Jack Holt), "Mushindo" (Terry Dukes, Rev' Nagaboshi), and the AKA (under Sensei Meiiji Suzuki). However, Phil Sensei made the decision to form The International Budo Association (IBA).
Affiliations and members grew at a great rate from the UK, Europe and Worldwide based upon a friendship of Martial Artists with no internal politics, open competitions, numerous courses and the infamous Ninja weekends – which were well attended and enjoyed by everyone (well almost everyone!!)
JOSH JOHNSON
IBA President & Licensing Officer